The Next Generation has arrived at Boots…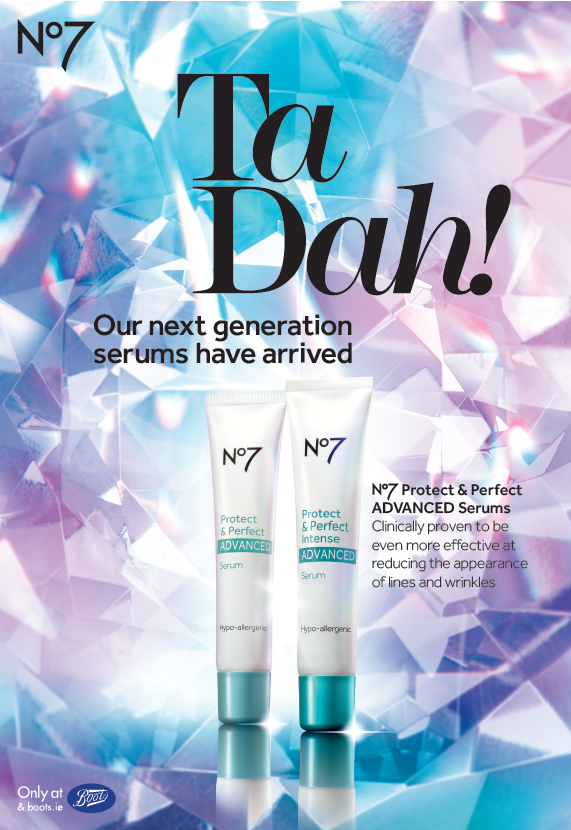 The next generation
No7 Protect & Perfect ADVANCED Serums
re clinically proven to be even more effective at reducing the appearance of lines and wrinkles.
After seven years of research, reformulation and further extensive scientific testing, Boots is launching
new No7 Protect & Perfect ADVANCED Serums.
Remember the storm of interest in 2007 when Boots revealed that its original No7 Protect & Perfect Serum had anti-ageing effects equivalent to a gold-standard, prescription-only treatment? Now, new and more powerful formulas, with even greater anti-wrinkle benefits, are about to hit the Boots store shelves to help women look and feel their best – with
80% of women who tested the new Serums seeing their best anti-ageing results ever!
No7 Protect & Perfect ADVANCED Serum, for improving the first signs of ageing that usually starts to appear between 25 and 35 years old @ €30.50
No7 Protect & Perfect Intense ADVANCED Serum, for improving the appearance of deep lines and wrinkles typically experienced by women aged 35+ @ €33
Back to News & Events