Will you be a winner in our Golden Ticket Giveaway?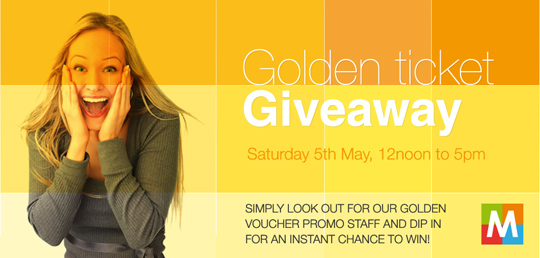 Feile Oriel is on its way to Monaghan – and Monaghan Shopping Centre has decided to release a batch of golden tickets with a Big Golden Ticket Giveaway on Saturday 5th May.
Since it's a big bank holiday weekend with lots to celebrate, the retailers at Monaghan Shopping Centre have joined forces to contribute over €2000 worth of vouchers for their shoppers. The Monaghan Shopping Centre promotional staff will be getting out and about – they will be in the town centre and at the shopping centre between the hours of 12 – 5pm on Saturday 5th May looking for you. So keep your eyes peeled and your fingers crossed if you want to be in with a chance of winning!
All winning vouchers can be redeemed at any of the stores in the shopping centre and are valid for a limited time only. So enjoy the music, the craic and the shopping with Monaghan Shopping Centre.
Back to News & Events