INSOMNIA – SUMMER RANGE
Insomnia have more additions to their Summer Range – Lets us introduce to you the Bakery Range!!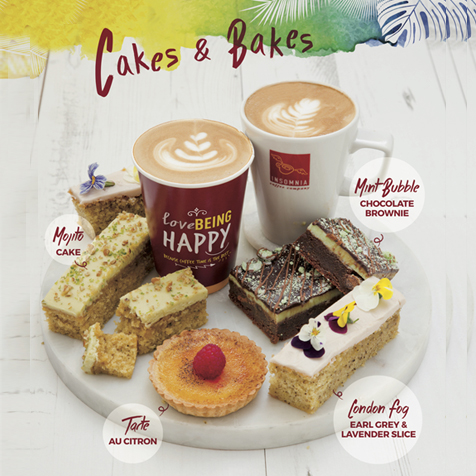 Mojito Cake
Let us introduce our first summer treat; the Mojito Cake, light mint sponge and white rum syrup, layered with mojito flavoured icing garnished with lime zest and crushed pecans. One Mojito, two mojitos, three mojitos, more!
Tarte Au Citron
Sit back with a Raspberry Lemonade and our traditional lemon citron custard with short crust pastry base, garnished with a fresh raspberry. The Tarte Au Citron, a real taste of summer.
London Fog Earl Grey & Lavender Slice
We are offering a slice of summer with our light Earl Grey Tea flavoured sponge cake, drenched with a sweet sticky syrup, topped with a light vanilla butter cream, garnished with edible flowers.
Mint Bubble Chocolate Brownie
For all those chocoholics, we wouldn't forget about you, for our final bakery product this summer, we will be serving up our mint bubble chocolate brownie. Glazed with peppermint fudge icing, rich chocolate ganache and mint chocolate pieces, this tasty treat will leave you graving for more.
Back to News & Events